Mark Kamizaki
MatTime® Brazilian Jiu Jitsu Coach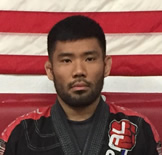 Mark Kamizaki has been training in Brazilian Jiu Jitsu since 2007 and was awarded his Black Belt in 2016 by Cassio Werneck. Mark was born in Brazil but moved to the United States in 1997. Mark has been a loyal student and friend to Cassio. That said, Mark had to work even harder to earn his belts and has competed in the U.S. Open, the Pan Ams and the Jiu Jitsu World Championships. Cassio Werneck has never been one to hand out belts and everyone is forced to earn their belts and Mark is certainly one that earned. Mark is respected by his friends, peers and Cassio and is considered a highly technical Black Belt that is able to effectively handle opponents larger and stronger than he is. Mark is a fantastic instructor and are happy to have him as our Head Jiu Jitsu instructor at MatTime.
Mark has a brother and sister that both train Jiu Jitsu and when he's not on the Mat he'll be furthering his career after receiving his B.S. in Kinesiology (Exercise Science focus) from Cal Stat University Sacramento.
« Back
Cassio Werneck
MatTime® Brazilian Jiu Jitsu Director
Cassio Werneck is a name that is well known in the world of Jiu Jitsu. His accomplishments, dating back to 1994, are testament to contributions that he has made to the growth of Brazilian Jiu Jitsu. Cassio is a multiple-time World Champion and recently became a back-to-back World (Masters) Champion.
Beyond his competitive career which includes a Jiu Jitsu World Championship, 5x MastersWorld Champion as well as a 2-0 record in Mixed Martial Arts (MMA), Cassio has generated a large and loyal following of students in Northern California. The culture that Cassio has established in his Sacramento Academy is unmatched. His classes are attended by people young and old, from many different professions and students - from doctors, lawyers and law enforcement to MMA professionals. Cassio has trained some very talented people in Brazilian Jiu Jitus such as Frank Mir, Randy Couture, Dan Henderson and Urijah Faber and his reach in the California Jiu Jitsu spectrum continues to grow.
Cassio's accomplishments on the mat speak volumes about the skill and tenacity that he brings to the sport, yet everyone knows him as a kind, fair and honorable family man. His accomplishments in Brazilian Jiu Jitsu are surpassed only by his loyalty and dedication to his students. Speak to anyone that has trained with Cassio and you'll hear them describe an atmosphere of respect, humility and family-oriented values. This is why we are excited to have Cassio represented at MatTime.
Below is a list of accomplishments that place Cassio as a top Jiu Jitsu Competitor:
World Championships
2003 Black Belt World Champion
Masters World Championships
2019 World Champion (Masters)
2017 World Champion (Masters)
2016 World Champion (Masters)
2015 World Champion (Masters)
2012 World Champion (Masters)
Pan American Championships
2017 Pan American Champion (Masters)
2013 Pan-American Champion (Masters)
2010 Pan American Champion (Masters)
2008 Pan American Champion (Masters)
2003 Pan American Champion
1998 Pan American Champion (Brown Belt)
1997 Pan American Champion (Brown Belt)
2005 Pan American Champion (Brazilian Team)
2004 Pan American Champion (Brazilian Team)
Additional Accolades
2012 World No-Gi Champion
2004 World Cup Champion
2002 U.S. Open Champion
2002 Brazilian Cup Champion
1994-2000 Brazilian State Champion
« Back