Lee Kemp
3X World Champion and Olympic Coach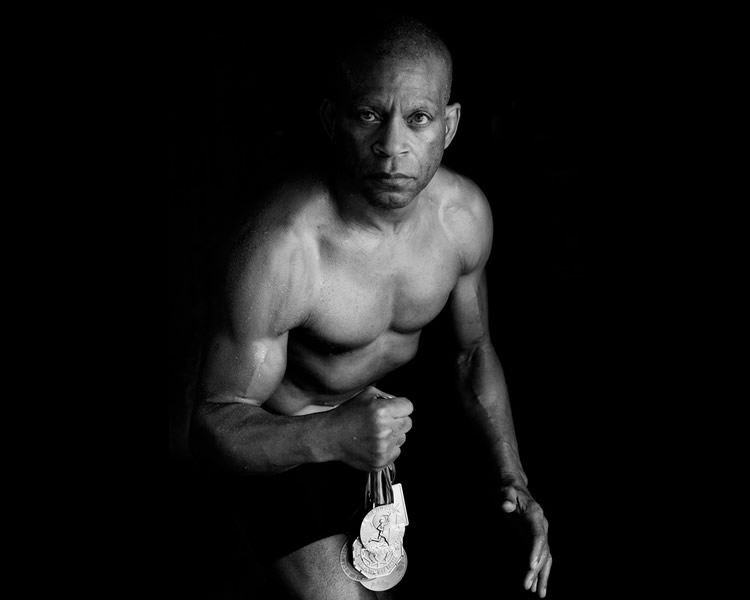 Lee Kemp was raised in foster homes until he was 5 years old after being given up at birth. He was adopted by a couple and raised on a farm in Ohio. As a freshman in High School Lee was introduced to the sport of wrestling and from there, his trajectory pointed significantly upward. Lee won 2 High School Wrestling State Titles at Chardon High School in Ohio and went undefeated his Junior and Senior years. After high school Lee attended the University of Wisconsin, Madison where he cemented his legend as one of the greatest ever. Lee Kemp is also the first African American to win 3 NCAA Titles (and a 4X Finalist).
Lee's lone Finals loss was his Freshman year, where the match was tied at the end of regulation and still tied after overtime. Though Lee scored the only take-down of the match, two of the three referees ruled in favor of Chuck Yagla (who went on to be an Olympian). At the time a referee was able to decide (by criteria) the winner of a (still tied) overtime match. It ended up catapulting him even higher.
Lee used this heart-breaking loss to fuel him for the following years in college where he won 3 NCAA Championships and then, and during his sophomore year (18 years old), Lee did the unthinkable. Lee entered the Northern Open Collegiate wrestling tournament where he could face the best American wrestler ever, 26 year old, Dan Gable who had just won an Olympic Gold medal in Munich having not surrendered a single point. Lee slayed the giant and the wrestling world took notice. Kemp later said: "I saw the first two guys he wrestled against lose," says Kemp. "Not so much because Gable was crushing them, but because they had quit before they set foot on the mat." Kemp had attended a seminar months before where he had heard Gable speak, and something Gable had said resonated with him: "Anybody could be beaten." Gable mentioned, and Kemp took it to heart.
Lee missed an opportunity to win Gold in 1980 when the United States Boycotted the Olympic Games. This was another difficult test for Lee, part of a longer story that will be told in his upcoming documentary. To add to his list of achievments, Lee was selected as a Coach for the 2008 Men's U.S. Olympic Team in Bejing.
Once again, MatTime is truly honored to have yet another Olympian Coaching here. It's humbling to have the coaches we have and be able to surround our kids with both great wrestlers but also amazing people like Lee Kemp, Quincey Clark and Adrian Garcia that head up our Kids wrestling programs. To put Lee into perspective, he is arguably the greatest American Wrestler of all time.
Lee's story is one that could easily be made into a Hollywood movie. In fact, there is a full length documentary sheduled to be released this summer about Lee's wrestling journey, called: Wrestled Away: The Lee Kemp Story. This documentary is available on iTunes, Amazon Prime and Youtube Movies.
Some of Lee's accomplishments below:
2X High School State Champion.
1974 Junior National Champion.
3X NCAA Champion.
4X NCAA Championship Finalist.
Collegiate record of 143-6-1, with victories in 96 consecutive matches and an unbeaten string of 109 in a row.
First African American to win 3 NCAA Titles.
2X Pan American Champion.
3X World Champion.
4 World Cup Titles.
Youngest American to win a World Championship in Freestyle Wrestling.
1980 Olympic Team Member (Boycott year).
National Wrestling Hall of Fame as a Distinguished Member in 1990.
Inducted into the UWW International Wrestling Hall of Fame in 2008.
« Back