Girls Wrestling Classes
A Great Form of Self Defense for Girls!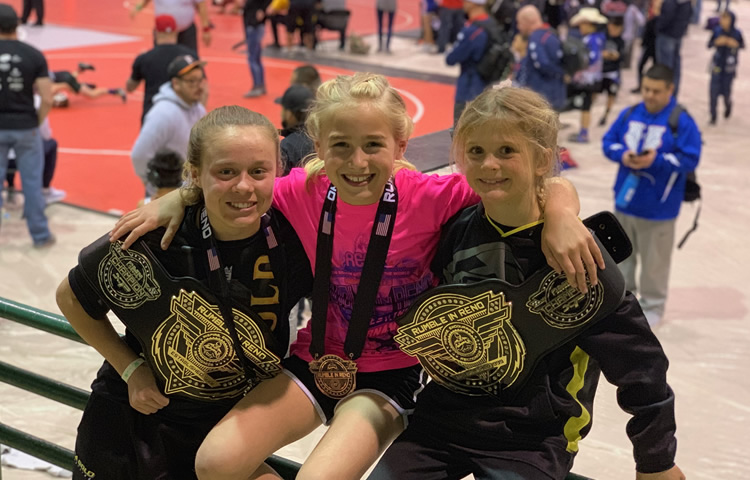 MatTime® is proud to offer high level wrestling instruction for girls in the Sacramento area. We have wrestlers at MatTime from Loomis, Rocklin, Roseville, Lincoln, Granite Bay and Auburn. The instruction geared for girls 3rd-8th grade who are looking to try out the sport or looking to refine their wrestling and self defense. The girls will learn a great sport (as well as learning to defend themselves) from Angela Vyborny, High School Girls Wrestling coach at Del Oro High School.
We are fortunate to have one of the top girls' High School wrestling programs in California here in Loomis under the leadership of longtime Coach Mike Maben and Angela Vyborny. The program is setting a high bar to follow for other high schools throughout California. Girls wrestling is one of the fastest growing sports in this country and throughout the world. With the help of Title IX legislation, more colleges and universities are also forming competitive women's teams and offering up scholarships to young women.
Come join the fun at MatTime and join these trailblazing young girls. STRONG is the new PRETTY!
SIGN UP AND PAY BELOW. CALL US AT 916.778.0128 OR EMAIL US AT WITH ANY QUESTIONS.
$60/mth
Girls Folkstyle and FreeStyle Wrestling
Thursday Evenings from 6:45-8:00pm
Classes are ongoing. Sign up at any time.
At MatTime, the girls will learn many aspects of wrestling (which is also self defense) including:
Fundmental scoring instruction for the sport of wrestling.
Take-downs and controlling opponent on the ground.
Strength training exercises and balance drills.
Controlling an opponents hands and head.
Take-down defense.
Stance, footwork and multi-directional movement (angles) - key to all sports.
Introduction to the rules of FreeStyle Wrestling.
Self defense and have fun while they're at it!
The class is open to girls, 3rd-8th graders, and is great for girls who have a lot of energy and are looking at picking up another sport. Girls wrestling is growing and Del Oro High School has one of tthe largest girls wrestling Teams in the State of California. This is the perfect opportunity for young girls to give wresting a shot!
Feel free to to reach out to us with any questions at 916.778.0128 or email us at .